Cruise Kids is a family owned and operated business specializing in children's wear and accessories with an auto motif. Cynthia is our designer, graphics and marketing person with an endless source of ideas from her 35 years of experience. Ken is our screen printer, enthusiastic salesperson and shipping and handling expert. Gerry is our behind the scenes person and office manager. Beverly and David are 'jack-of-all-trades' and do just about whatever we need done! Lou is our Website Manager, whose talent, expertise, and professionalism has created this fantastic web site.
We bring back the nostalgia of the 50's, as seen through the eyes of a child by designing and creating our own original screen prints that cannot be purchased in any store. All of our garments are proudly made in the USA. We also manufacture a line of our own garments in unique styles that afford practicality, growth features, comfort, quality, and fashion. Most of our garments are 100% cotton and all are completely machine washable.
So, while you are cruising on our web site or at our booth at car shows, parents and grandparents alike can always find JUST the right thing for that special little person and be confident in knowing that we guarantee your complete satisfaction.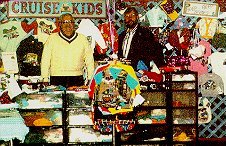 P.O. Box 84, Hillsdale, N.Y. 12529
call us at:(518)-325-4980
Thanks for stopping by! We hope you'll visit us again soon.